Growing Up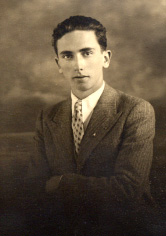 Four score and seven years ago, Herb was born in Manhattan. His family moved often, and he grew up in Manhattan, the Bronx, and Brooklyn. By 1938, he was living with his mother and sister in a Lower East Side housing project called Knickerbocker Village; his upstairs neighbors were Ethel and Julius Rosenberg.
He graduated from Morris High School in 1931 and went to Brooklyn College at night. After college, he graduated from Fordham Law School, but the Depression intervened, and he took any job he could get until the start of the war.

The War Years
Herb enlisted in the U. S. Army just after war was declared on December 7, 1941. He served in the Signal Corps, attaining the rank of Technical Sergeant. Herb was stationed in India, Ceylon, and China. He boasts of shooting a snake once and replacing Lord Mountbatten's radio. While in training at Signal Corps stateside base, Fort Monmouth, New Jersey, he socialized with many other Jewish soldiers and their friends, attending folk dances and dinners. Among his acquaintances were some actual spies, who later escaped to the Soviet Union, and his future wife, Millie.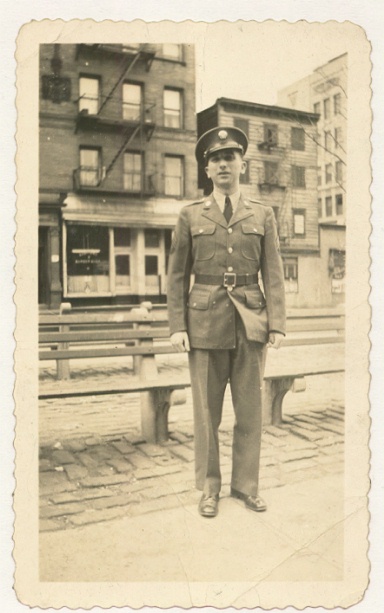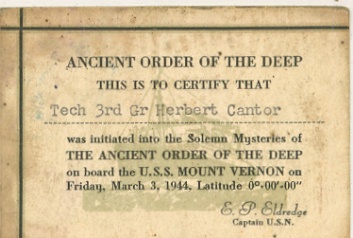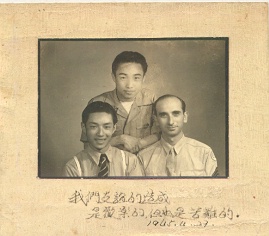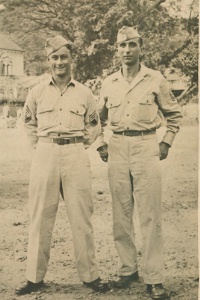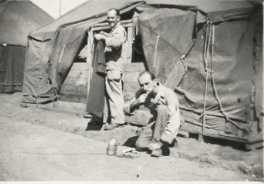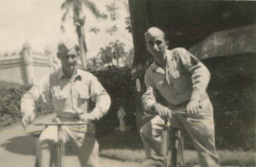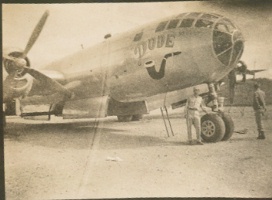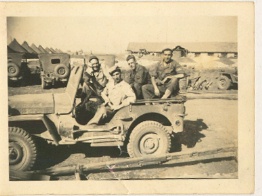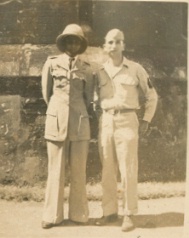 Millie and Kids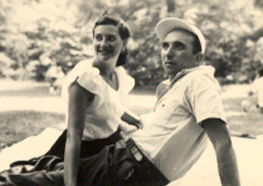 Herb met Millie at Fort Monmouth in New Jersey. Herb was in the US Army Signal Corps and Mildred Block was a civilian employee. They were married on January 12, 1946.
In 1948, when they heard that Levitt and Sons was building a new community on Long Island that would be especially hospitable to returning GI's, they quickly signed up to buy a house. Levittown heralded a whole new change for the nation, a shift toward suburbia. Millie and Herb were pioneers, building friendships, starting a library, making a new life.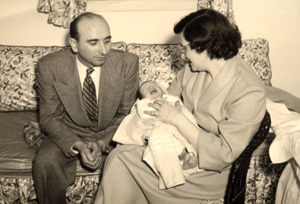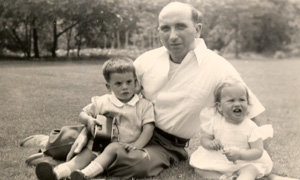 In recent years, many reporters in various news media who were working on pieces about Levittown or post-war suburban growth found their way to Millie and Herb. They have been in the New York Times, Newsday, the Washington Post, a PBS special about the automobile, and a Japanese television program about suburban America; and, most recently, Herb was interviewed extensively by the Museum of Jewish Heritage about the life of Jewish soldiers during WW II.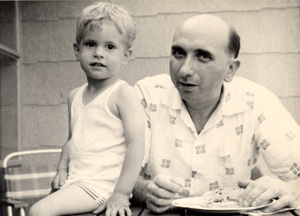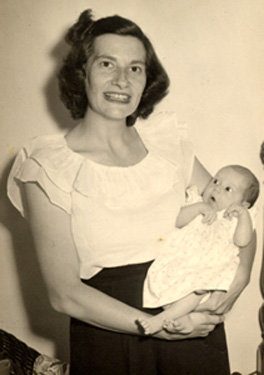 Valley Stream Auto Parts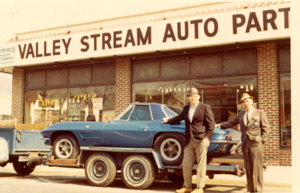 After the war, Herb decided to work for his brother-in-law at Ed's Auto Supply in Lynbrook, Long Island. He joined forces with fellow counterman George Schutz, and in 1955 they bought an established business, Valley Stream Auto Parts. Located on Rockaway Avenue in the heart of Valley Stream, the business was a supplier of wholesale auto parts to scores of gas stations and service stations on the south shore of Queens and Nassau County on Long Island. The store consisted of a small customer floor that fronted on the street. Behind the front was a large warehouse that consisted of a complete machine shop where they resurfaced brake shoes, milled engine blocks, and smoothed scored cylinders; rows of shelves stocked with an astounding array of water pumps, brakes, and belts; and the famed Tailpipe City and Muffler Metropolis in the back.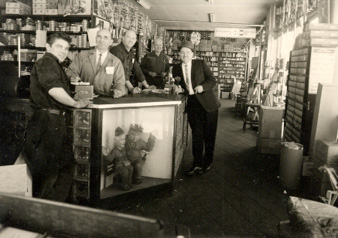 The local auto parts supplier is almost a thing of the past today. Most parts distribution is now carried out by automobile manufacturers themselves, who ship directly to their car dealerships.
Herb and George sold the business to two of their longtime employees, George Lindner and Bill Yellin, in 1983. The store is now a restaurant.
Three Friends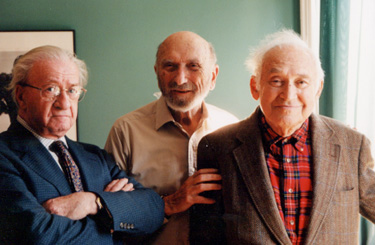 Herb first met Marvin Penner and Milton Gold when the three of them were 'runners' for Lehman Brothers on Wall Street. Through the Depression, the war (both Marvin and Milton were conscientious objectors), happy times, and illness, they were friends for nearly 70 years… until they all died within three weeks of each other in September 2000: Marvin on September 1, Milton on September 4, and Herb on September 21. It's almost as if they had a pact.
The Illness
Herb, oddly enough, had never been really sick during his life. As a matter of fact, the only time he was in the hospital previously was when he had his tonsil taken out as a kid. He always claimed they took out the wrong tonsil.
He did suffer from shortness of breath during the past year, and his doctors suspected clogged arteries. After an angiogram on his birthday in July, it was determined he needed heart bypass surgery.
He had a triple bypass and valve replacement operation on August 29, 2000, at North Shore University Hospital in Manhasset, NY. If it had gone well he would have been up the next day. However, there were complications, and the docs kept him sedated so that they could increase his heart output and control his fluctuating blood pressure. For twelve days he was unconscious and on a respirator.
Herb solved the doctors' problem about how and when to take the respirator out by pulling the tube out himself on September 9 when he finally started to wake up. He was incredibly weak after nearly two weeks of inactivity and no nutrition. He couldn't talk or swallow because his vocal cords were swollen or damaged.
He was alert and communicating with us, even making jokes (you've probably heard them all already). He either wrote us notes or spelled out words using the sign language alphabet he made all his kids learn 30 years ago. While he improved in small increments, he was frustrated, exhausted, and discouraged.
On September 19, his breathing became labored and he went back on the respirator. The doctors suspected a massive infection. They took extensive measures and even contemplated an operation. However, we knew Herb's wishes and his desire for a life worth living.
He died on Thursday, September 21, 2000, at 12:02 pm. Present with him, talking with him and holding his hand, were his wife, Millie, and his three children, Phil, Mady, and Danny.