Joseph Hornick
April 22, 1918 – November 9, 2002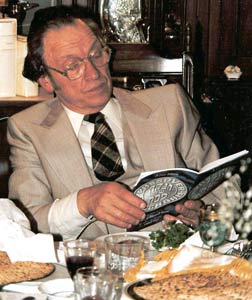 Eulogy by Sandy Hornick
I don't really know how to eulogize my dad, and in talking to my brother and sister I'm aware of impressions and memories we share and others we hold uniquely. One way I remember dad uniquely is his teaching me that patience is a virtue, so I wanted to remember my father today by some of his traits, ones that would be high on anyone's list of virtues: Perseverance, Family, Loyalty, Responsibility, and Faith.
My father had to persevere almost from the beginning of his life. Early on, his life was threatened by a severe case of scarlet fever, in an era before antibiotics. Yet he found the strength to survive. In the hard times of his youth, he had to help with the candy store or with his dad's super's responsibilities.
I don't want to suggest dad was the perfect child. In one of the stories that for some strange reason we didn't hear until we were adults, dad was confronted with an unwanted glass of milk that he was obligated to drink. This problem he solved brilliantly by pouring the milk in the drawer with my grandmother's starched curtains.